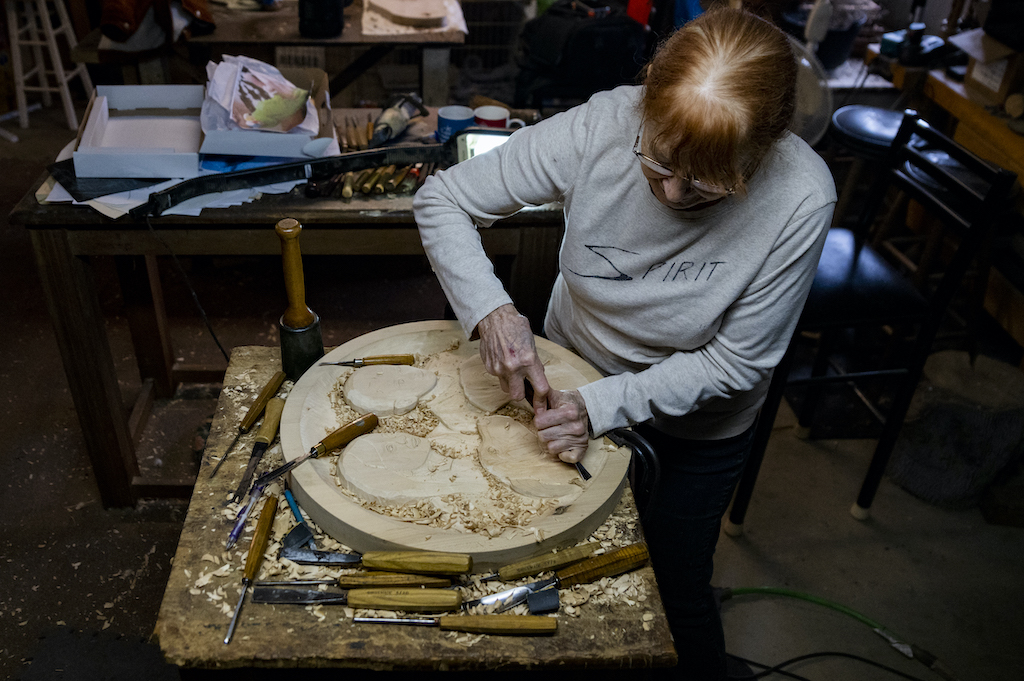 Photo by Sam Warren
Meet Spirit Williams
Story by Avery Waffen
Spirit Williams is an 80-year-old wood carver and artist based in Rockbridge, Ohio. Don't let her age fool you, Spirit has the wit and the sense of humor of someone half her age.
Originally from Oklahoma, she has been wood carving for 53 years and is completely self-taught. She believes in working with the wood to make her carving feel more alive, it's a "cooperative event" she says.
"When you do what you love everyday, you tend to not age."
I sat down with Spirit on a cold February morning to talk to her about how she got into woodcarving and what it is like to do what you love for a living | Audio by Avery Waffen
The Workspace
Her shop named Spirit of the Woods which is located in Rockbridge, just off of highway 33. Spirit moved to the large house 26 years ago with her longtime friend and carving student, Helen.
The 15 room house has a little art shop in the front where spirit sells not only her own work, but also the work of many local painters and artisans. Around back of the house is a garage-turned-wood-working studio, and two of her 8 cats join her in her shop as she carves away at the wood.
Photo by Avery Waffen
Straight from the Source
Spirit sources her wood locally from friends who are in the logging and carving business. She prefers Bass Wood because it doesn't splinter and is typically unwanted by loggers because of how soft it is. Her friends plank the wood then bring it to her, something she says she is extremely thankful for as she loves to use local wood but does not have the means to harvest it herself. For her larger pieces she prefers to use cherry or oak for their sturdiness.
Along with carving, the pieces she also has taken to painting some and staining others. The painting brings her carvings to life and provides more creativity in what she can create.
Her largest piece was done for The Columbus Zoo, it's eight feet by four feet and is made up of 77 small carvings. You can tell by the way she talks about the large carving that she is very proud of her work.
Photo by Sam Warren
Photo by Avery Waffen
Spirit says one of her biggest difficulties is having Chronic Fatigue Syndrome because it limits her carving to just a few hours a day. Despite this difficulty, Spirit still makes most of her money off of commissioned pieces.
Her advice to those who want to go into a field like hers: "If you don't truly love it, don't do it. You don't have a fancy car or healthcare, but I wake up every day and get to do what I love."